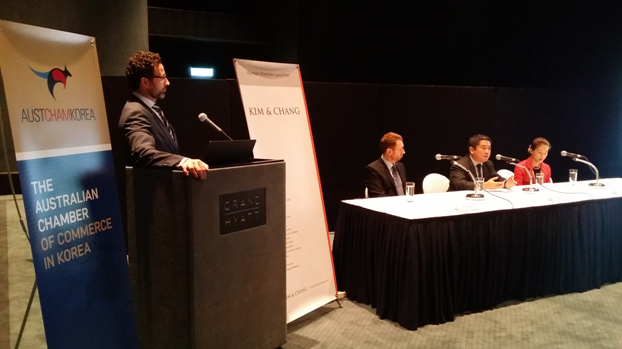 AustCham Launches DBIK: Doing Business In Korea
As we all now know, the KAFTA entered into force in December 2014. The finalization, execution and ratification of the KAFTA provided AustCham Korea with a strong focus in the past few years. Now that we have the KAFTA, AustCham's focus has shifted to helping its members navigate the business environment here in Korea. The KAFTA acts to supplement and enhance this business environment. However, to do business in Korea effectively in any sector, an understanding of the rules and practices applicable to that sector are essential.
With this in mind, AustCham on Wednesday 16 September launched its DBIK initiative. The first event was a breakfast seminar that explored the practicalities of implementing the KAFTA. The Australian Ambassador to Korea, His Excellency Mr Bill Patterson, opened the event, focusing on the potential for the KAFTA and reminding us that the KAFTA provides the framework, but that it is up to all of us in business in Korea to take advantage of the opportunities the KAFTA presents. AUSTRADE Senior Trade Commissioner, Brett Cooper then spoke of the early success stories under the KAFTA, focusing on specific wins in the agricultural sector. We were then very fortunate to hear from Jason Lee and Joo Young Lee from law firm Kim & Chang, who shared their experience of assisting companies navigate the EUKOR and KORUS FTAs, and reminding us that similar issues could arise under the KAFTA. It was very comforting to hear that the experience to deal with any such issues already exists in Korea! The event closed with a Q&A session where event participants were able to share their experiences and have their questions answered by the panel.
Lewis McDonald
Vice Chair, AustCham
Chair, DBIK Committee